When you have lots of space to work within your master bedroom, there are so many bedroom decor ideas you can use to transform your sleep experience. The feeling of coming home to a bedroom you truly love is incomparable.
Most bedroom decor guides focus on design tips for small bedrooms. Even though small master bedrooms can be tricky to decorate, big master bedrooms also present difficulties when trying to balance style, substance, and quality sleep.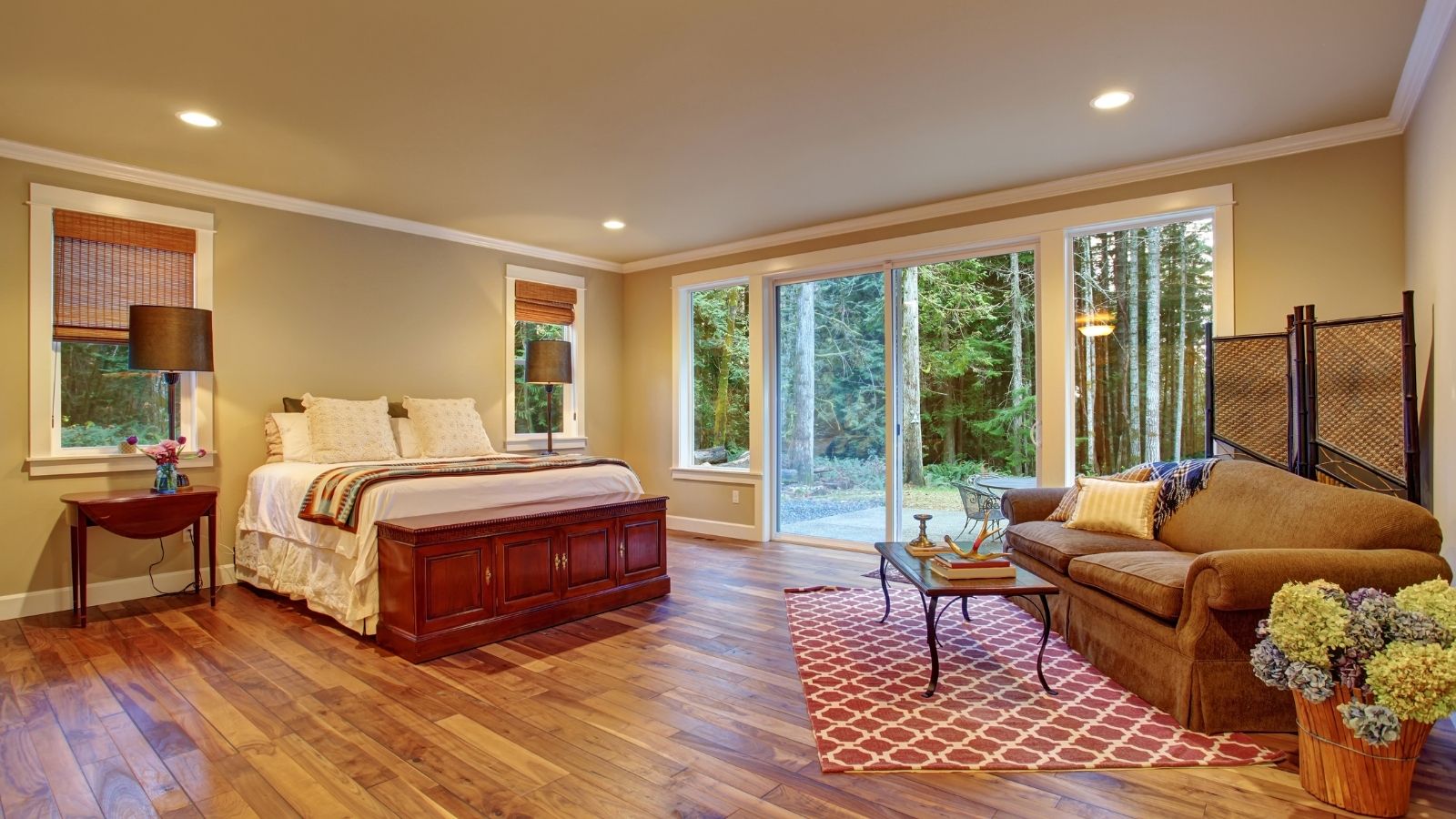 One of the best benefits of a vast room is that you can consider a range of mattress sizes, so you'll be able to sleep like royalty each and every night. Further to this, a large bedroom allows for more bedroom furniture. Not only can you fit in a big bed, but nightstands, ottomans, large mirrors, and chairs also become possible additions to the floor plan of the master bedroom.
#1. Upgrade To A Bigger Mattress Size
The lucky few who have an enormous master bedroom are in a unique position to sleep on a king-size mattress without having to worry about overcrowding the bedroom. A king size mattress size measures in at 70" x 80" x 10". It's good to know exactly what king size mattress dimensions are so that you can ensure the bed will actually fit.
Bigger beds are perfect for couples, especially for couples with small children who like to climb into bed for cuddles from time to time. If you're not too sure if a king-size is the best for your master bedroom, do a little research about mattress dimensions.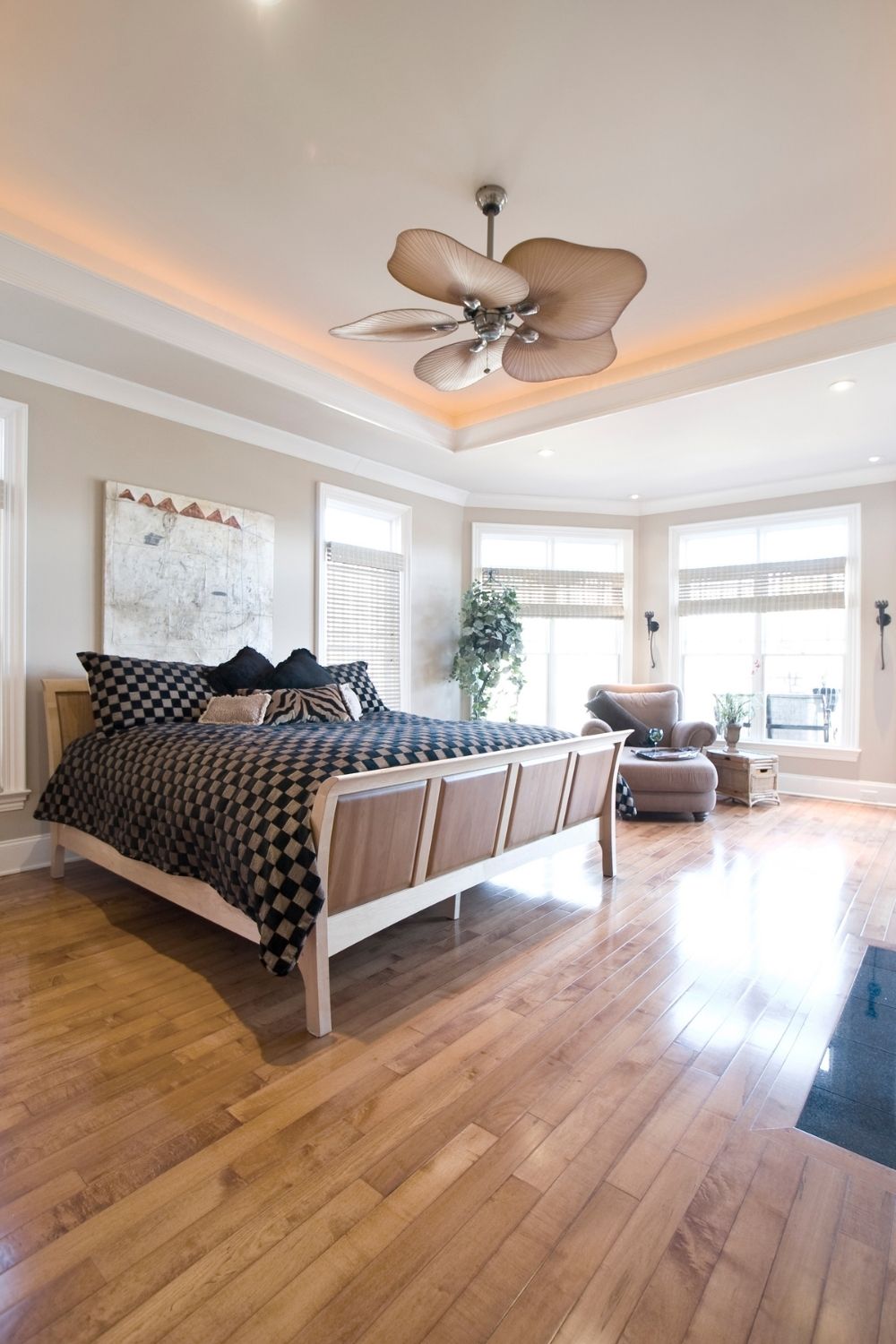 As well as an excellent size mattress, the type of mattress also counts. A memory foam mattress is one of the most popular options on the market today. The reason why memory foam is so popular is that it's luxuriously comfortable without costing an arm and a leg.
The special formula of memory foam in the best-rated mattress contours to the body and creates comfort in every season.1030 These mattresses are also known for their cooling abilities; they do not trap heat like other mattresses. If you haven't tried memory foam yet, you can sleep trial most mattresses to ensure it is right for you.
#2. Get The Bed Frame Of Your Dreams
Most people with small bedrooms sacrifice sleeping on bigger bed frames as they want to save floor space. But if you have a huge bedroom, you can get whatever bed frame you like.
A large metal bed frame industrial style bed frame is an excellent option if you are going for a trendy industrial look in your huge master bedroom. Or try a sizeable wooden country style bed frame for a traditional bedroom design that is comfortable and calming. Timber bed frames are highly popular for large bedrooms as these bed frames are heavy and usually feature oversized headboards that create a big design impact.
If you have a king-sized mattress, then you will obviously need a king size bed frame. You can also opt for a queen bed frame if you want to use extra space for more bedroom furniture such as an ottoman at the foot of the bed.
#3. Relax On A Large Chair Or Couch
When you have space in your master bedroom, you can create an area for reading and relaxing. One of the best ways to do this is to have a large chair or couch placed near the window in your bedroom. It's best also to have a lamp nearby.
Incorporating a small lounge-style area into a huge master bedroom looks appealing and is highly functional. It can serve as a place to rest and catch up on the news. Or even have conversations with a partner after a long busy day.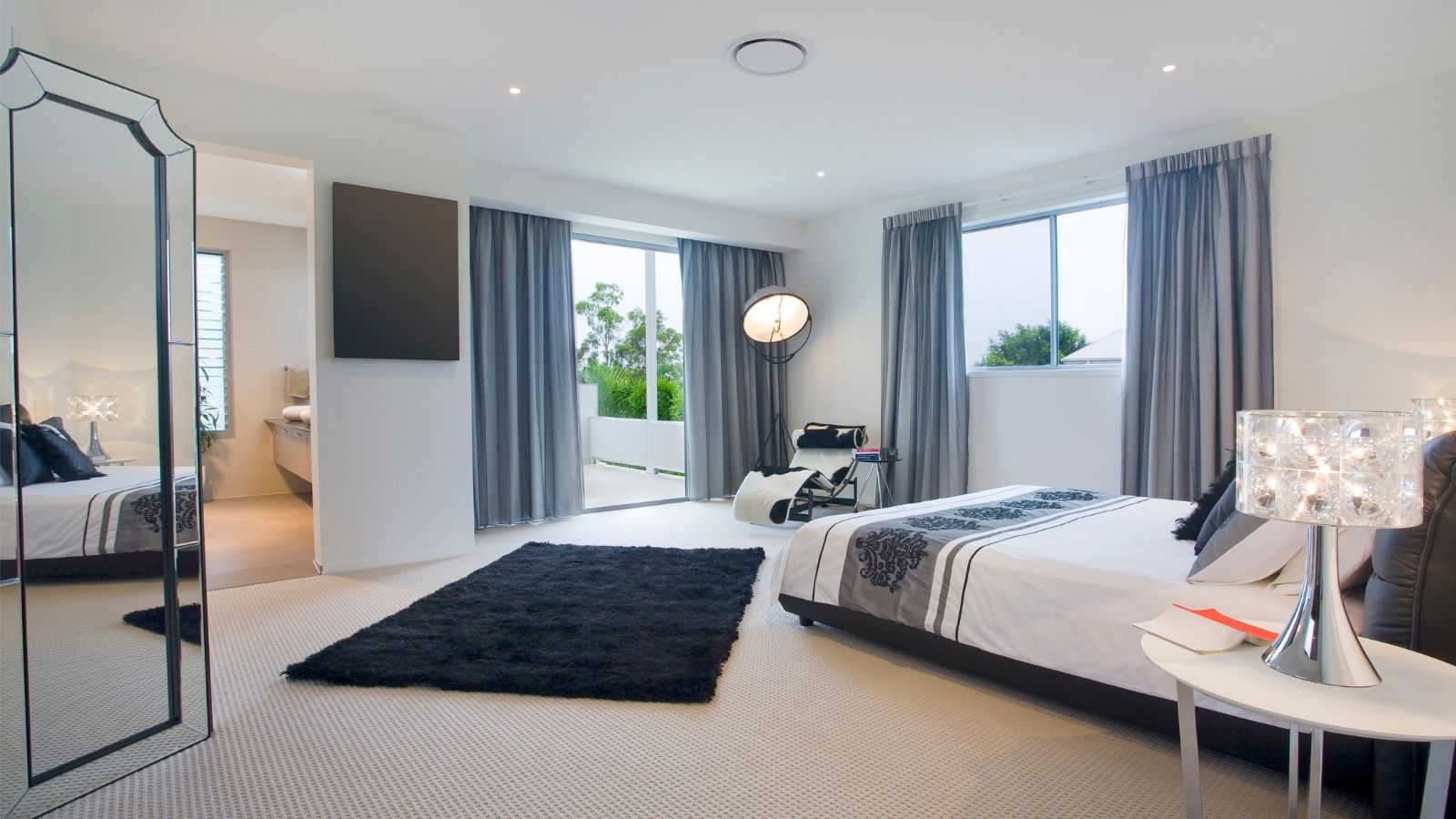 If space allows, 2 one seater couches can provide great symmetry and comfort. However, if you want to reduce the size of the lounge area, then two smaller chairs can do the trick.
#4. Invest In 2 Sizeable Modern Nightstands
When you have an extra-large bedroom, you can afford the space for bigger nightstands. Small nightstands can make storage an issue, so when possible, try to find a 3 drawer nightstand for each side of the bed.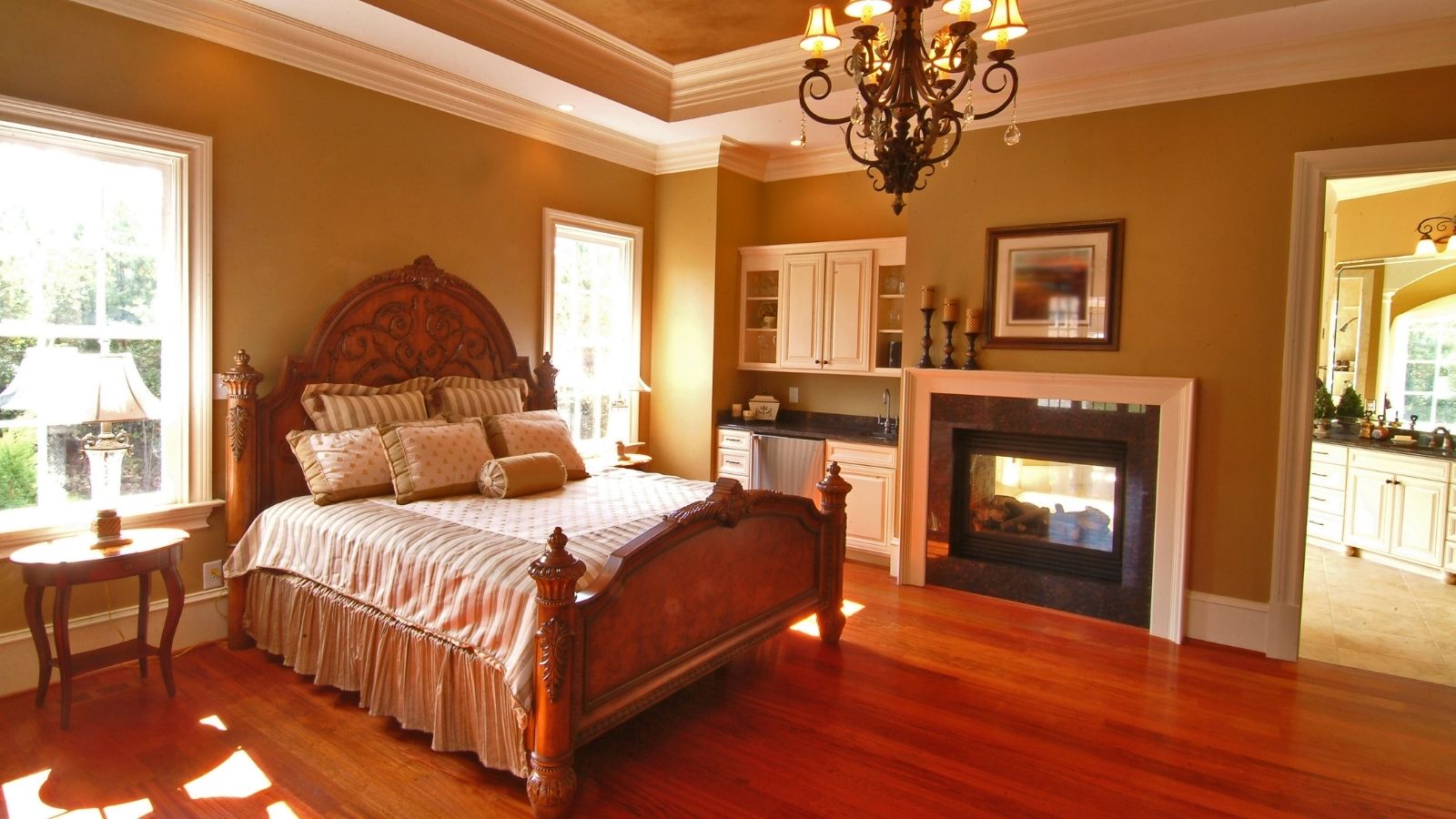 Nightstands are among some of the most underrated pieces of furniture in the bedroom. A perfect nightstand should have enough room to store away all the bedroom essentials neatly, so they aren't stacked up around your lamp, causing clutter.
Two nightstands are better than one. Symmetry in the bedroom can help with better sleep. Two nightstands not only look good, but they will also ensure there is enough storage on each side of the bed.
#5. Get A Statepiece Piece For Your Master Bedroom
When you have a large master bedroom, you can really personalize it with a statement piece of furniture or artwork that leaves an impression when someone sees it.
A bedroom should be comfortable and calming, but there are many ways you can incorporate your personality into your room to make it a place you are really proud of.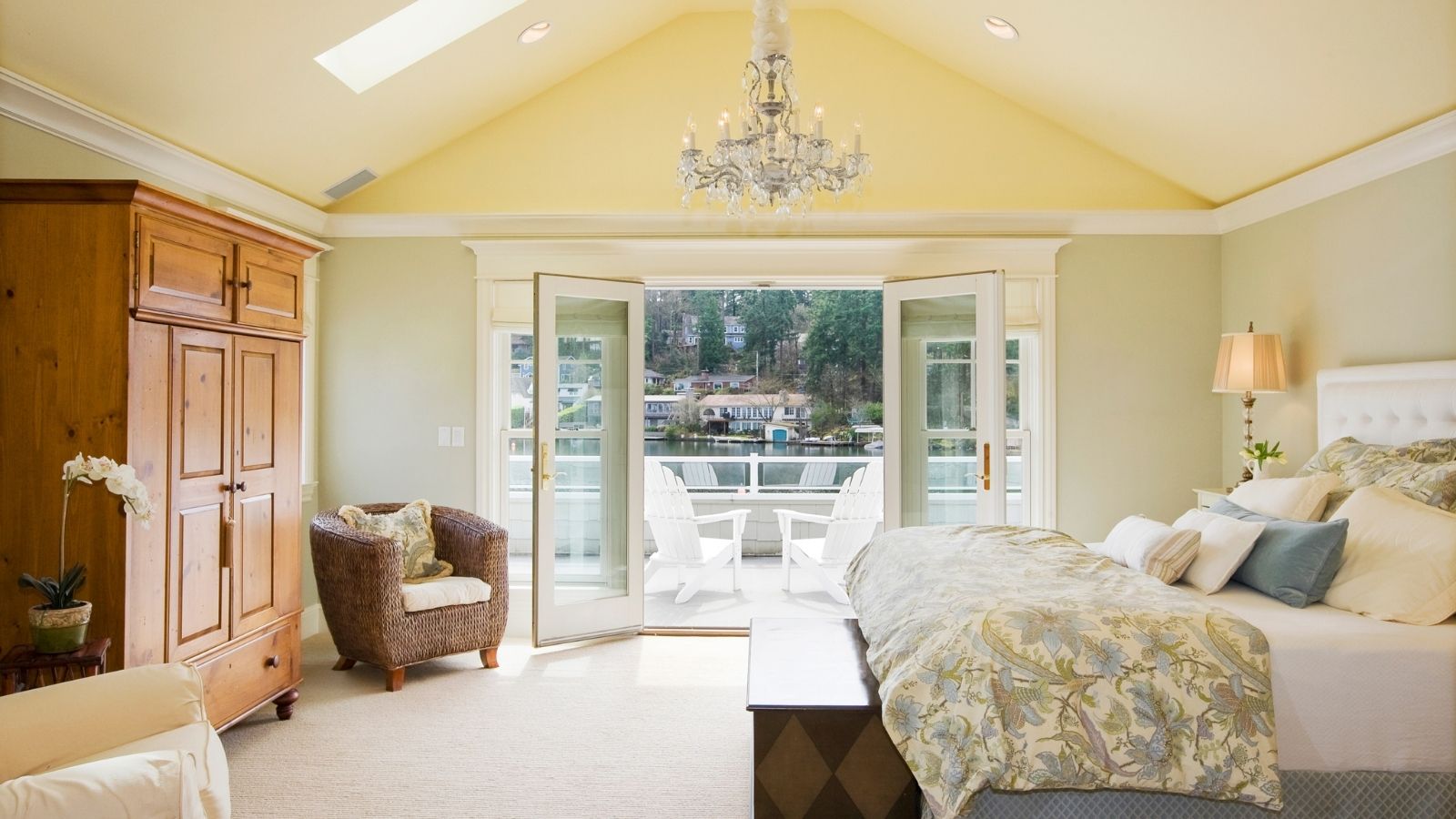 Some ideas for a large statement piece of artwork or furniture in your bedroom include large lampshades, oversized pillows, bean bags, hanging lighting fixtures, a fireplace, and large dressing tables.
When it comes to artwork, the best colors for statement artwork are light blues and light greens. These colors add tranquility to the bedroom and can contribute to deep and relaxing rejuvenation.
Healthy sleep is vital, and the best way to sleep better is to have a great sleep routine and a bedroom that is optimized for the best rest possible.
If you have a great healthy lifestyle, but an uncomfortable and messy bedroom, chances are that you are not getting the best sleep possible. So it's essential to balance your lifestyle and strategically think about the design of your master bedroom.
The key to designing a master bedroom that has a lot of space is to ensure you are utilizing the room you have efficiently. Don't overcrowd the bedroom, but be thoughtful about the size of your furniture and the style you choose to place in your master bedroom.