Halloween is an annual celebration on October 31st of all things frightening and terrifying. Children and adults all throughout the world use this day to fully disregard polite society's standards and embrace their more savage sides. Halloween is one of the only times of year when people are encouraged to flaunt their freak flag proudly! Whether you enjoy the age-old tradition of trick-or-treating or prefer to relax with your friends while sipping pumpkin spiced cocktails, this festival caters to all ages. Halloween has been celebrated in some form or another for nearly a thousand years. Originally a religious festival, it has become increasingly secular throughout time, to the point where its religious connotations are almost non-existent.
The traditions surrounding this holiday have developed through time, and before it became recognised as a time to dress up, cosplay as pop-culture references, and gorge ourselves with candy, it was a solemn occasion commemorating those who had died, including saints, martyrs, and all the faithfully departed. Halloween has evolved into a day for dressing up and having a good time, especially among children. People dressed up in costumes and lighting bonfires to celebrate that day. People participate in the tradition of carving pumpkins into jack-o'-lanterns, playing practical jokes on each other, and visiting rumoured haunted locations. Older kids and young adults who aren't old enough to go trick or treating have Halloween costume parties where they dress up as their favourite characters from television or popular media. The better the outfit, the more elaborate and awe-inspiring it is.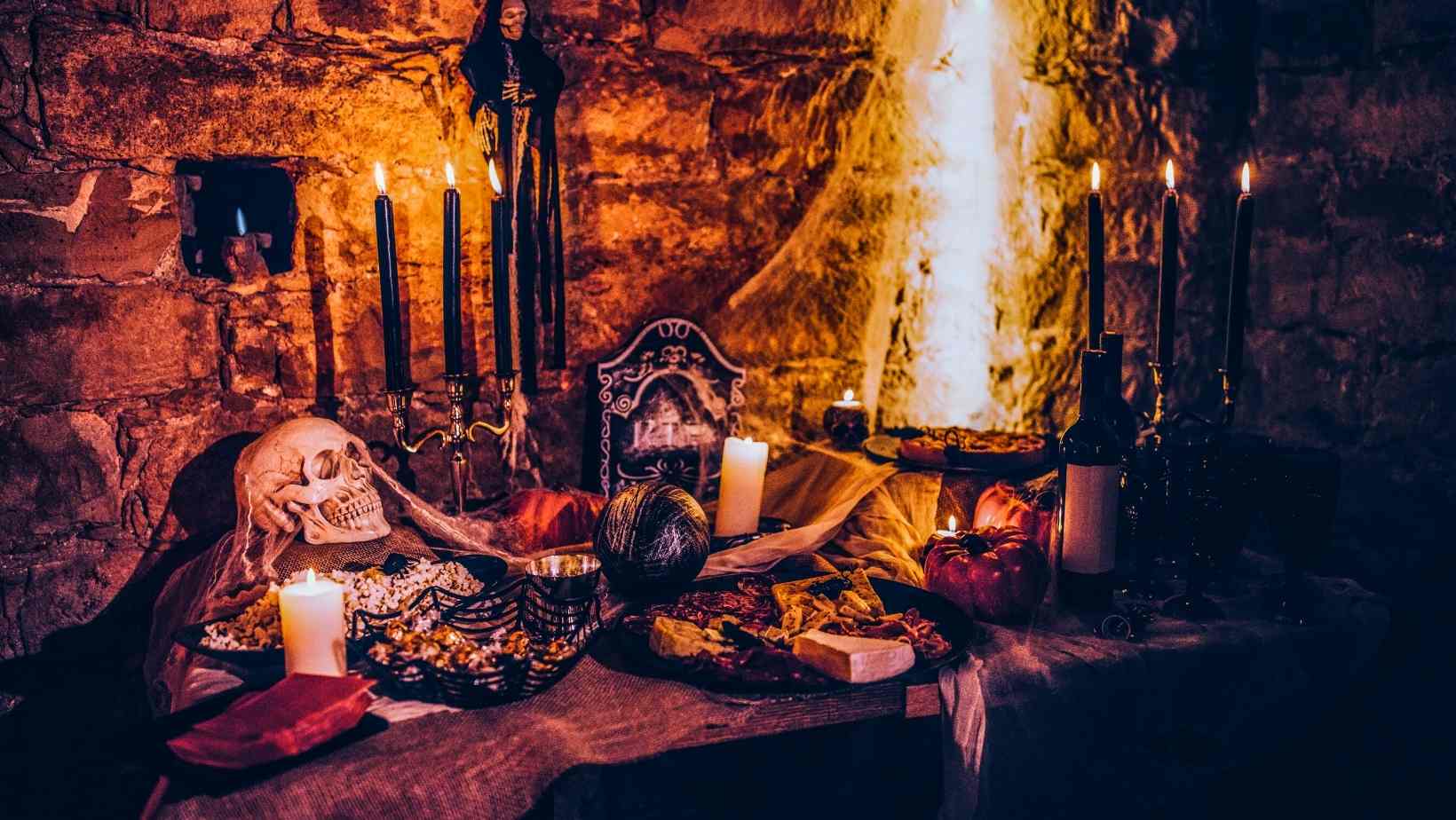 Anyone who enjoys the farmhouse style will adore the Halloween decor you're about to see, which includes everything from frightening banners to bats, creepy crawlies, and pumpkins galore. For the Halloween season, farmhouse style is the most popular. Mum baskets and pumpkin collections cultivated locally go together well on any porch. Add a few subtly creepy features, such as rustic broomsticks, and a few sweet touches, like buffalo check pumpkins, and you've got a deliciously contemporary take on farmhouse Halloween decor. Remember the old days when all you had for Halloween decorations were plastic orange pumpkins and plastic trash bags hung from trees. These Halloween house décor ideas will give your home the perfect amount of spooky, trendy fun this season. Here are some Halloween decoration ideas in the farmhouse style.
Farmhouse Inspired Spooky Halloween Decoration
Jump to:
1. Buffalo Check Cloth-
Buffalo check fabric is a must-have for any farmhouse-style home, but it's really special when wrapped around soft-sided pumpkins for Halloween. Using a galvanised bucket to collect fabric-covered pumpkins is a certain way to achieve a perfect farmhouse Halloween look. Rustic broomsticks and a painted wooden sign add a spooky touch.
2. Spooky Mantle-
Allow a witch's silhouette decoupaged with newspaper on rustic wood planks to tell a spooky storey on the mantle. Use the pages of an old newspaper to make the witch for an extra special touch. Decoupage a couple craft pumpkins with newsprint or book pages to complete the macabre look. To hold white painted pumpkins, use rustic candlesticks you may already have on hand.
3. Black Wreath-
Make a great Halloween decor by adding black fake flowers to a grapevine wreath. The tableau is completed with a black bird perched on a white tree branch. Make a lovely Halloween décor by adding black fake flowers to a grapevine wreath. The tableau is completed with a black bird perched on a white tree branch.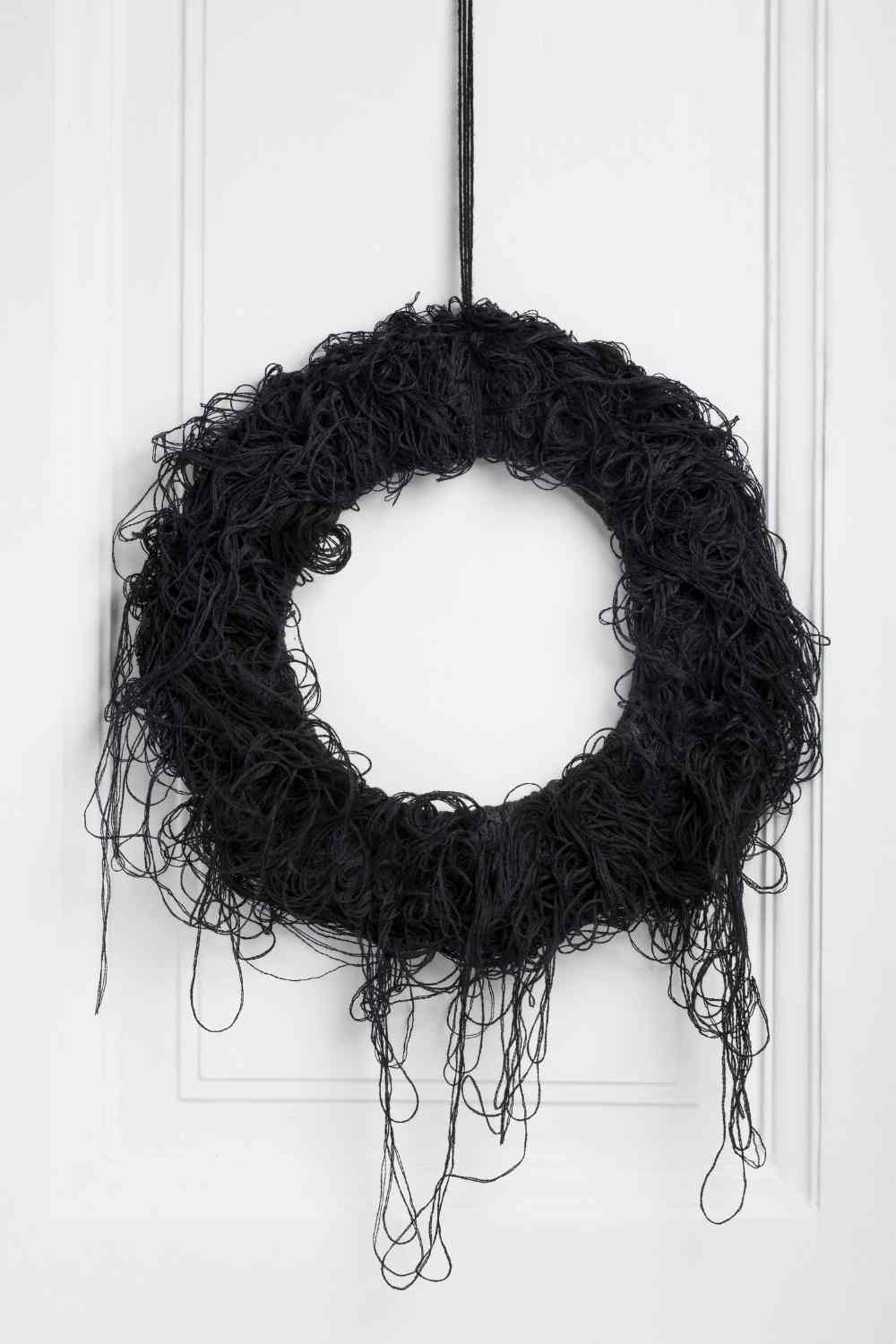 4. Hanging Bats-
Bat cutouts, strategically arranged and hanging from your porch ceiling, would create the perfect Halloween look for your front entryway. The porch is neatly finished and framed with a Happy Halloween banner and a strand of Halloween lights. Cut out as many bats as you think you'll need from black cardstock and hang them with black and white twine, packing tape, or duct tape from your porch ceiling.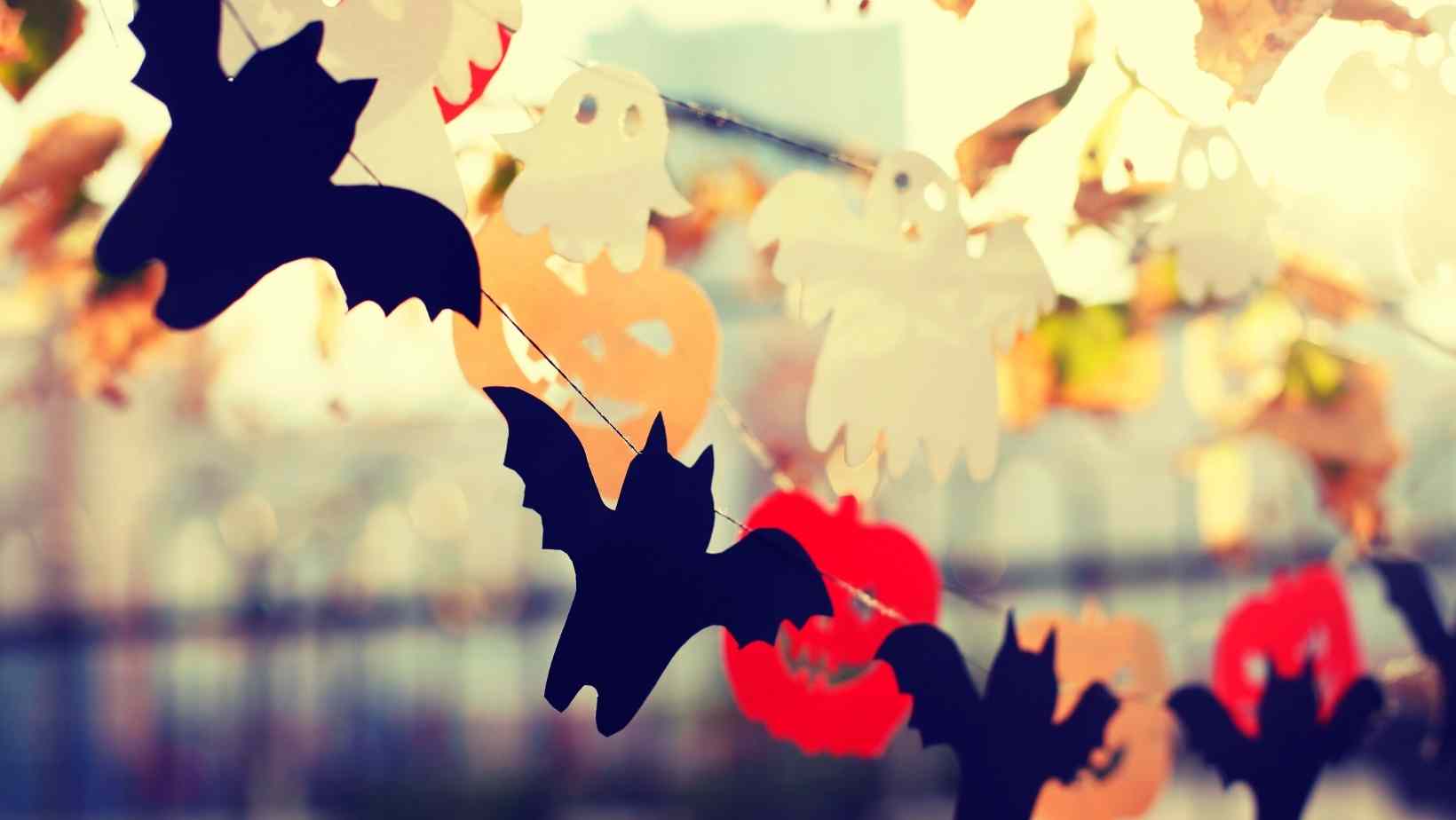 5. Spiderwebs-
This terrifying spider web is a fantastic idea. This one is constructed of clothesline, but any heavy-duty yarn will suffice. Consider the spider webs, their horizontal and vertical linkages, and how to anchor one down before you start your project. If you have the time and are creative, you can construct your own fearsome spider.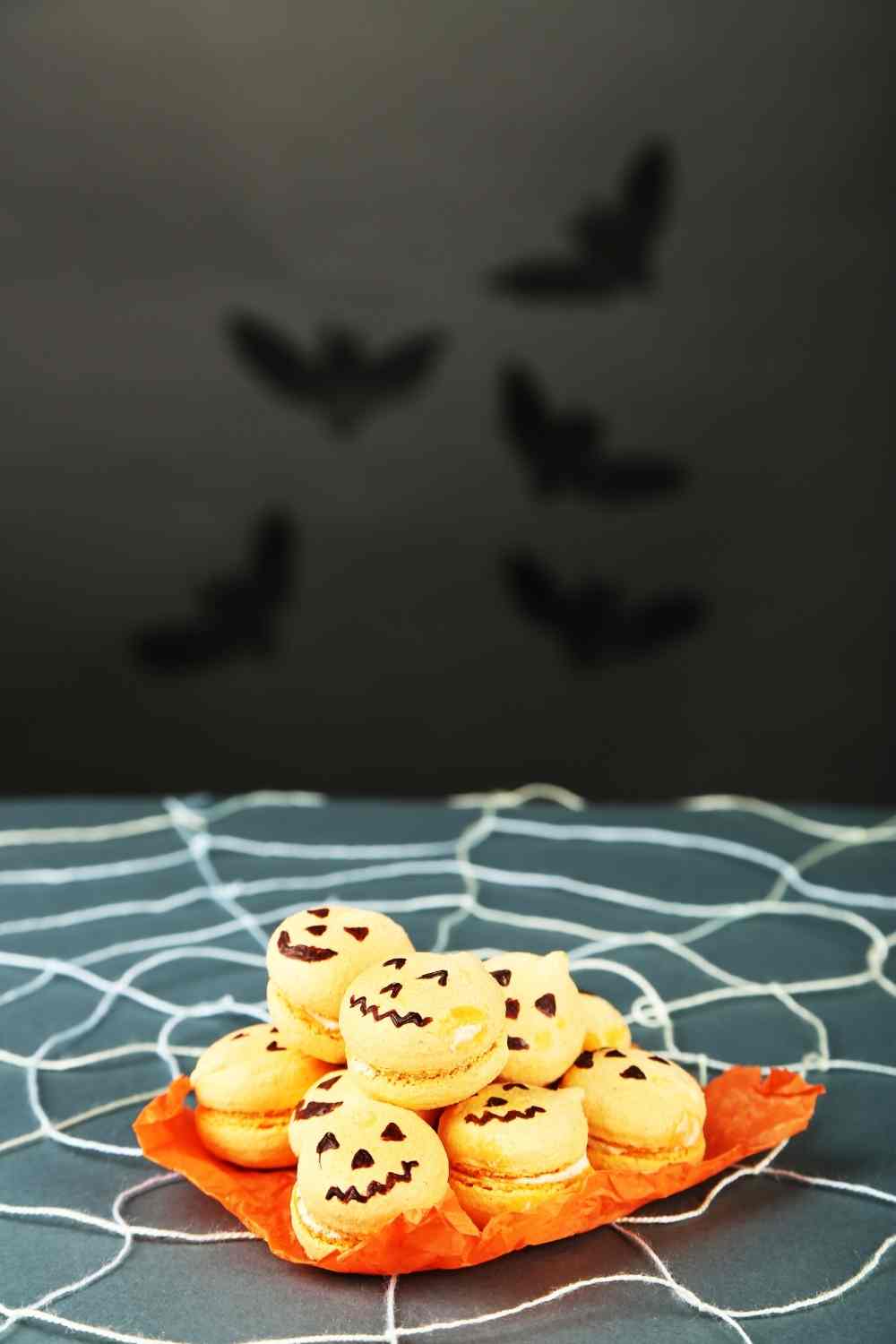 6. Pumpkin Urn-
Frame your door with beautiful objects from a pumpkin patch or farmers market. Corn stalks add height and texture to this rustic door display. Glue white painted pumpkins in place with natural fibres between each layer to hide the glue or stack them on an urn with a spike pierced in the centre. Flowers in galvanised buckets bring a pop of colour to the table.
7. Scary Front Door-
Dress up your front door with a collection of creepy-crawly rats in addition to fall décor classics like corn stalks and colourful pumpkins. Place them in unexpected places for a creepy surprise at every step. The painted letters BOO are the icing on the cake, making the swag even more eye-catching. Its large size makes it a double door delight, and it's perfect for trick-or-treaters.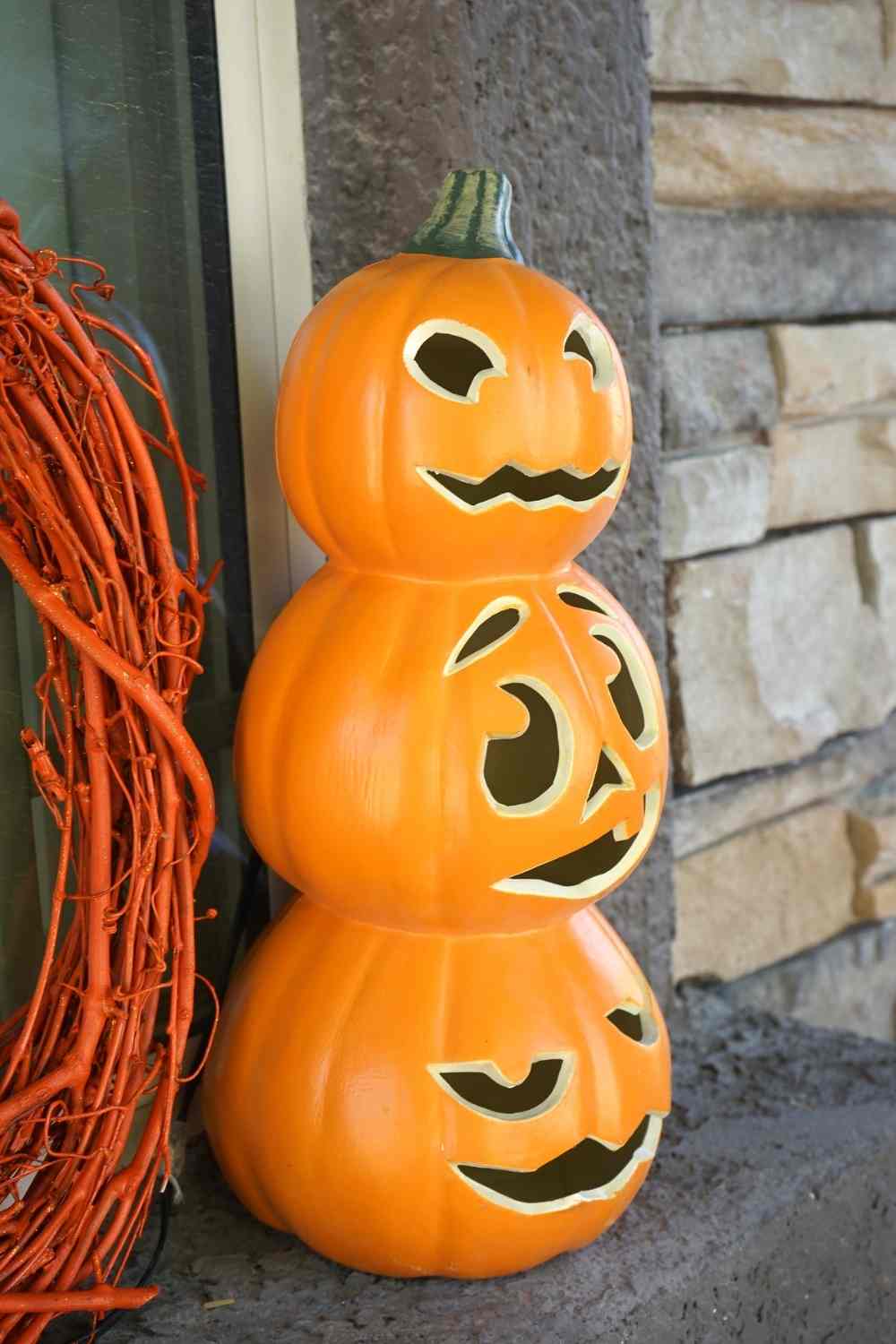 8. Wire Pumpkin Baskets-
This long-lasting wire pumpkin display looks difficult to put together, but it's actually rather simple. Look for two oval-shaped wire baskets and fill them with little fake gourds before stacking and wiring the buckets together. When it's time to put out the Halloween decorations, keep this farmhouse pumpkin on display for the whole fall season, then add adhesive ornaments.
9. Googly Eyes -
It's googly-eyed accents that bring plants to life in every nook and cranny, and they're watching you from every angle. To make this gawking greenery, paint a couple of pumpkin pits white and hot-glue the "eyeballs" onto wooden stalks. They'll draw people's attention if you tuck them into the foliage.
10. Doormat-
A frightening halloween doormat will liven up your front porch. Create this rustic Halloween decor using an affordable plain coir doormat, stencils, and paint daubers. We chose to cover it with pumpkins and leaves, but a ghost or witch stencil might make it even scarier.