Introduction
From Samsung to Xiaomi everyone is coming up with new home appliances every day. To make your home life comfortable and easy-going, we here at housecareguide.com are working every day to bring you the best updates and articles.
Here today we are uncovering the mystery of smart washing machines.
We will look into what these smart devices actually are, what they claim to do, how they work, how they differ from our regular household washing machines, and we'll even look into some things you should look out for if you decide to buy one of these machines.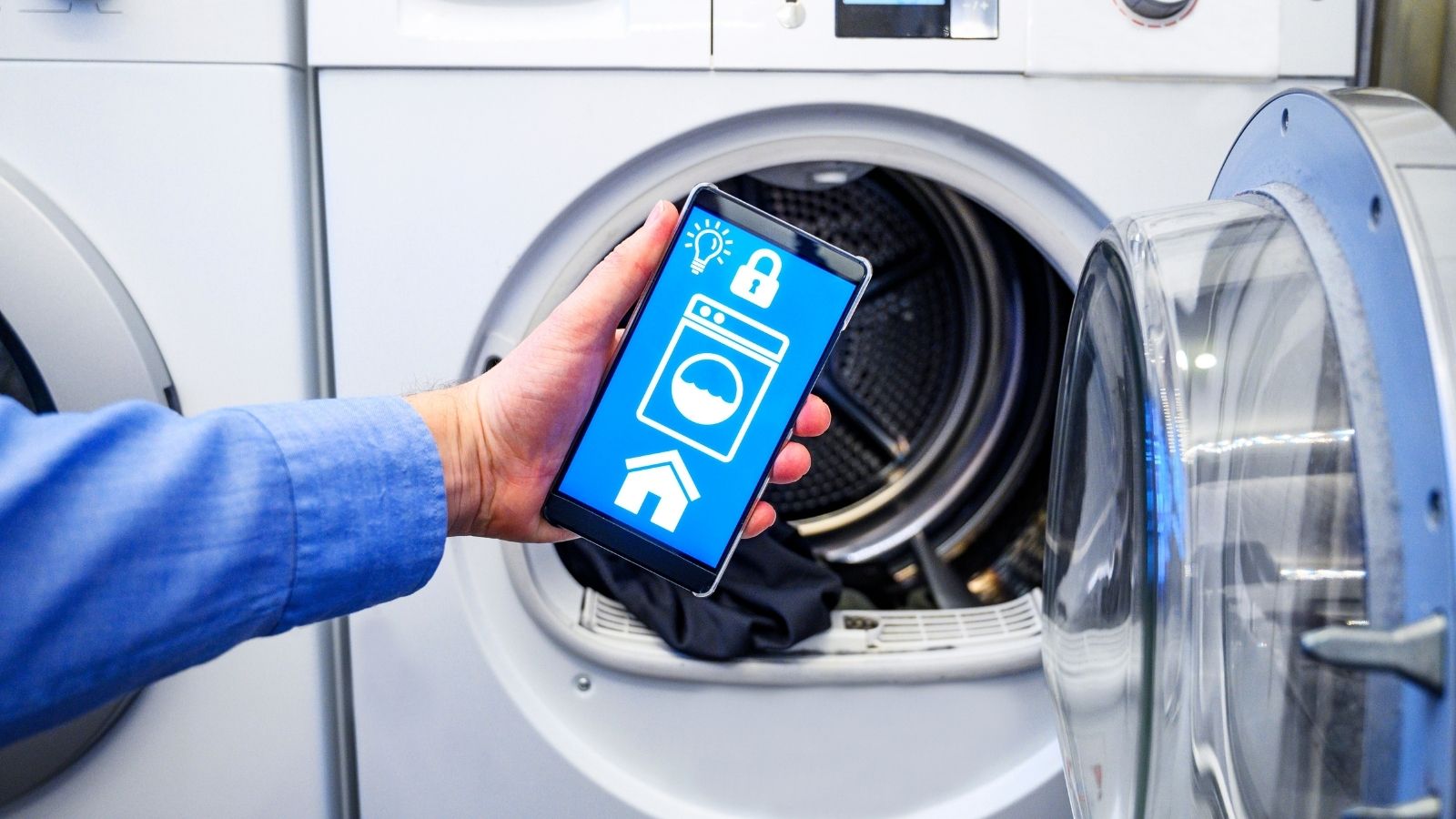 So what are you waiting for? Just keep on reading.
What is A Smart Washing Machine?
A smart washing machine is a smart take on your regular washer and dryer to make it more convenient and user friendly. In today's world, more and more families are becoming nuclear and people mostly live alone. That means there isn't always someone around to keep an eye on your load of laundry.
This is incredibly troublesome for people who have 9 to 5 jobs and don't want to spend their much needed weekend on dirty clothes. Smart washing machines have a set of smart features that make it automatic and it needs less monitoring.
It connects to your mobile or tablet through your home wifi and gives you complete control of your feature sets.
How Does A Smart Washing Machine Work?
A smart washing connects to your smart handheld device through a common network. In domestic cases, this will be the wifi you use at home and your home router. Once these devices are connected you will be able to control your machine with the compatible app installed on your phone.
But, the plus point is, since your mobile device can operate on 3G networks, you can also control your smart washing machine from outside your home. Apart from the remotely controlled feature sets, the functionality of the washing machine would be like any other traditional washer and dryer.
Differences Between A Smart Washing Machine and A Regular Washing Machine
The remote controls and commands are what set a smart washing machine apart from a plethora of regular washing machines. It is all controlled through the app and makes your experience all that more elaborate and better. Let's look at some of those key differences.
App Controls
As we have already mentioned, a smart washing machine is controlled through a mobile app. This app gives you complete controllability of the whole machine. You can set timers, cycles, and even access the machine from a faraway place. These are crucial features that are not available in a regular washer dryer.
Remote Diagnosis
This might seem like a small perk that might not get a ton of use but in reality, this can save you a boatload of cash on emergency repairs. The mobile app can notify you even for the smallest of glitches in your machine and give you reminders for servicing.
This way you can stay ahead of your game and plan the servicing accordingly. The machine will not break down on you all of a sudden causing unplanned expenses.
Different Cycles
This is a fun feature. You can select and customize different cycles if washing for different kinds of fabric.
This is not only more favorable for your laundry, but this will also make sure you are not wasting extra detergent and energy by using the same washing method for fabrics of different thickness and elasticity.
Customizable Cycles
Other than setting different cycles for different fabrics and laundry, you can even pause and delay the cycles. You can also add new items after starting the cycle. Some particular models even have a specific valve so you can add laundry mid-cycle without making a mess.
Notifications
The most convenient feature of a smart washing machine is push notifications. The app will notify you of every single update throughout the day. You can even check on the progress of your laundry via the app.
The app will let you know as soon as your laundry is done. You can set notifications for delayed starts so you can catch the off-peak rates and keep your energy bills at a minimum.
Load Sensors
Load sensors are smart AI sensors that are installed within your smart washing machine to let it know what kind of fabric is in the machine. The machine will identify the fabric and the material and choose a washing cycle accordingly. This will keep your more fragile items of clothing intact and pristine.
Automatic Detergent Input
The smart machines have sensors to measure the laundry within the drum and dose the detergent accordingly. You will never have to carefully measure detergent again and risk wasting product. This will save you both time, effort, and money in the long run.
What to Look Out For
Take the measurements into account. Make sure you take the measurements of the place you plan on keeping your smart washing machine in and use those to choose the most optimum design.
Keep in mind s good washer will boost the performance of even a mediocre dryer. It depends on how much water your washer takes out first. A good washer can save you a lot of time and money on energy bills.
Different models and manufacturers have different feature sets. Remember more features don't mean better performance. Pick a washer with features that are the most beneficial to you. This will also help in keeping your purchase within a budget.
Conclusion
The smart washing machines are a viable upgrade on our age-old regular washer dryers. These are designs that are more efficient and better suited for fast-paced urban life. If you go through this article and list down your requirements, it will be absolutely easy for you to choose a model and design that suits you the best.