A wet room is just a bathroom with rebounded flooring and walls that are sealed with a waterproof membrane to keep water from seeping in and causing harm. A sloping floor in a wet room directs any water toward a waste or drain, allowing surplus water to flow into your waste water system. Bathrooms with wet rooms are really popular right now. This design is popular for a few reasons, whether it is totally open or uses a single layer of glass to surround the shower and bath. The shower in a wet room bathrooms are not contained by a shower screen and there is no shower tray. The water from the shower drains away through the open, tiled floor section of the room and into the bathroom's main drain. Although many people like to instal a glass screen to avoid water splashing outside the shower area, a totally open, fully tiled wet room eliminates the need for an enclosure for or for walk-in showers.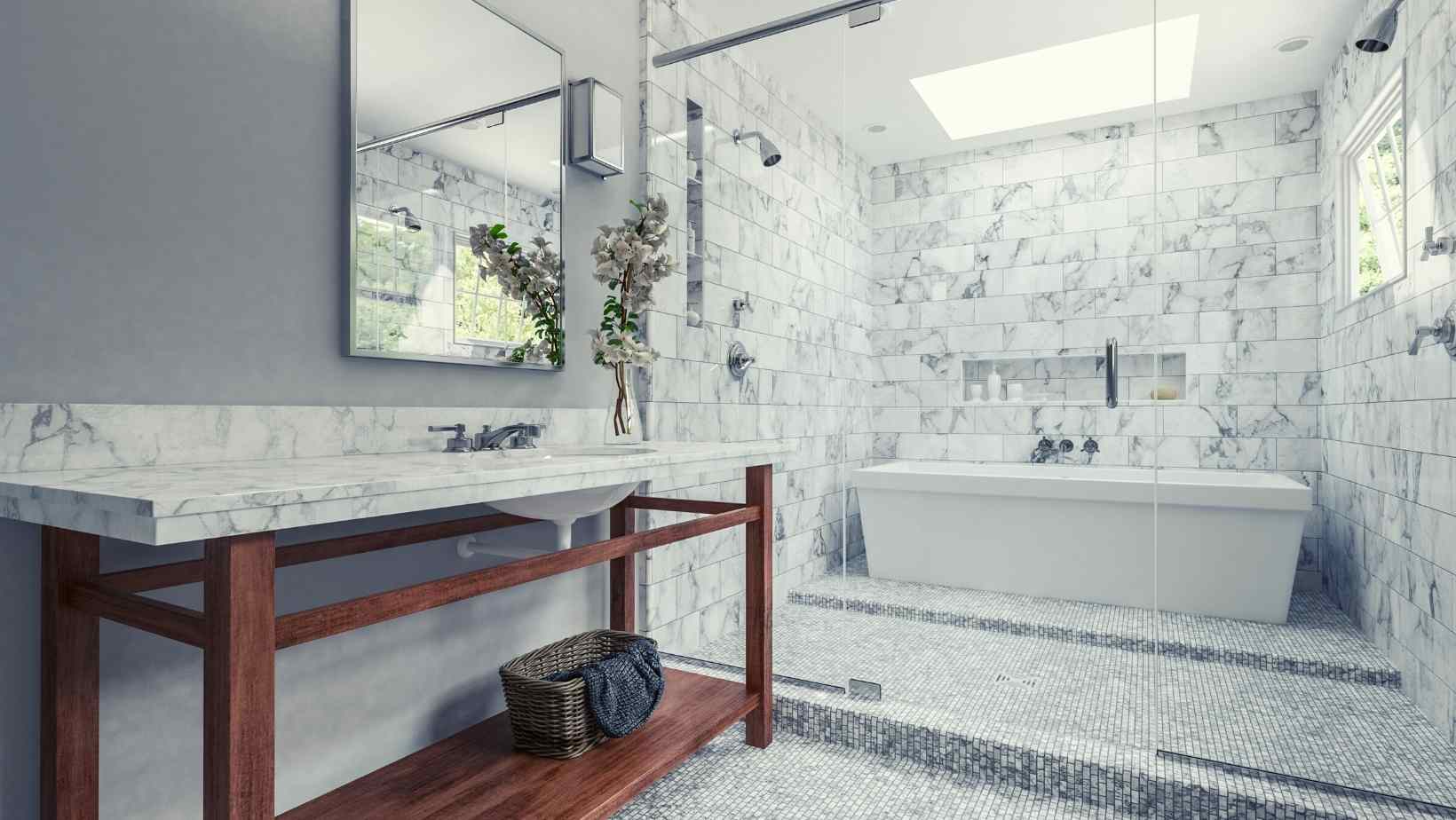 A wet room is an open, waterproof space without any steps, trays, or high areas. It makes better use of floor space and can make your bathroom feel more elegant and spa-like. As a result, adding a wet room to your home increases its overall value. Because of their streamlined use of materials and simplicity of use, wet rooms are becoming increasingly popular, particularly in high-end bathrooms. However, they are not suitable for every home or individual. Wet rooms are still a good idea for small areas, but they're now showing up in high-end bathrooms. It's a natural progression from the popular freestanding tub fad of recent years. A wet room is a room that has been built entirely of water-resistant materials. This may entail completely furnishing a bathroom with water-friendly materials.
In many new wet rooms, the shower and freestanding tub are separated from the sink and toilet by a glass enclosure. A wet room may be difficult to install in some bathrooms due to its layout, size, and plumbing configuration. If resale value is an issue for you, combining a shower and tub in a single area is also a very personal preference that could effect your home's market value. The most recent wetroom designs are quickly becoming "must haves" for homeowners looking to add a touch of luxury to their newly renovated bathrooms. Can we, however, believe the hype? We examine the benefits and drawbacks to help you determine if a wetroom is right for you.
Pros Of Wet Room Bathrooms-
For youngsters and those with mobility issues, a wetroom provides an accessible shower. One of the most significant advantages of wetrooms is their accessibility. Wetrooms can be a liberating and pleasant solution to bathing challenges for anyone who has difficulty getting in and out of the bath or shower.
Your home's value can be increased by installing a wet room. A wetroom as a second bathroom is becoming increasingly popular among homebuyers.
A wet room can provide the impression of more space. Because there is no apparent shower tray on the shower floor and no requirement for a divider to collect shower water on the walls, the surface materials can be used throughout the room.
One of the most appealing aspects of establishing a wet room is how simple it is to clean. Because the environment is damp, regular bathroom cleansers can be used all around the room to disinfect and prevent mould and mildew.
A wetroom expands your design possibilities. By removing the bath, you will be able to maximise your space and open up the space. There's also no need for a large shower enclosure with doors that can obstruct the limited area you have.
Cons Of Wet Room Bathroom-
It's possible that everything will get soaked. Because the shower is no longer enclosed, it is almost guaranteed that the entire room will become wet when it is used. It can be difficult to keep towels, toilet paper, and other soft furnishings dry in this situation.
Wetrooms can get hot and stuffy. Wetroom dampness is a concern, especially if your wetroom is small. With proper ventilation and an extractor fan, you can easily overcome this. The wetroom is made to be entirely watertight.
The most difficult aspect of a wet room is ensuring that the entire space is waterproofed and that all water drains to the room's main drain.
Wet room bathrooms might increase the chances of leaking and damp problems due to the water exposure. It's tough to keep them from becoming wet, especially if they're little, so proper ventilation and design are essential.
Everything has its own advantages and disadvantages but we can easily overcome the disadvantages and make the advantages the main point.